Winter Vegetable Galette
It wouldn't be Fruitman Kitchen if we didn't make a vegetable pie in the shape of a heart on valentine's day. We know we know, valentine's day is so washed. This vegetable galette though, this vegetable galette has some answers. We received a ton of carrots from our CSA Brooklyn Supported Agriculture, and we're going to be trying to do this often on Fruitman Kitchen, where we take whatever we get at our CSA and treat it right. These carrots in particular were out of this world, try to get your hands on them. They're organic, multi-color, and have this wonderful surprise citrus note that carries this entire recipe. We also threw in some of the beautiful radishes we got in the CSA for added brightness. It's a surprisingly simple and adaptable recipe that will make sure you use up all of the vegetables you bought but don't know what to do with.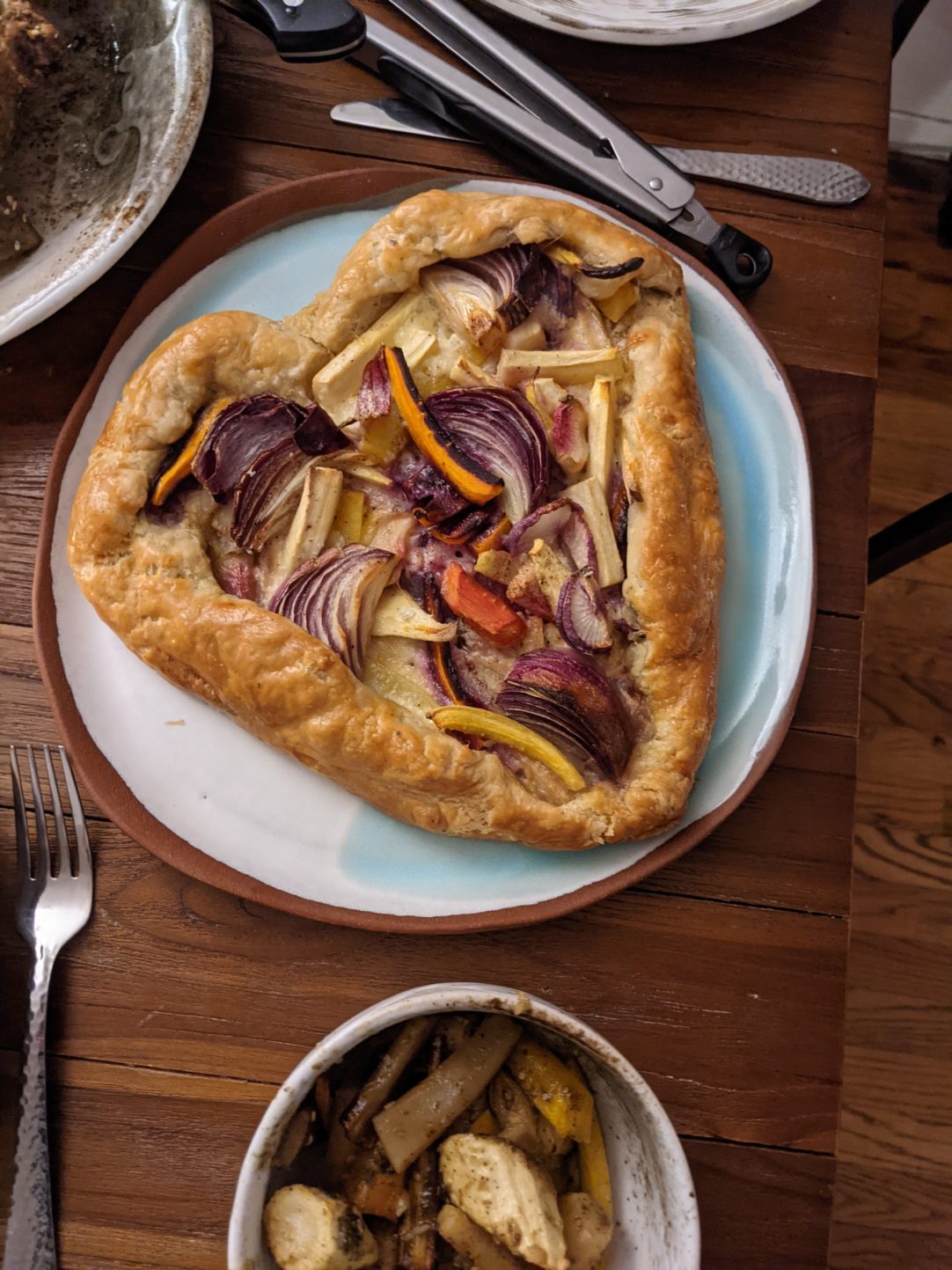 Total preparation time: 30 minutes active, 1.5 hours inactive
Difficulty: Moderate
Pineapples: 5/5 🍍 🍍 🍍 🍍 🍍
Read before committing: Any root vegetables will do, squash would be nice, turnips, carrots, radishes, even beets.
Ingredients
1 1/4 cup of flour
1 stick of butter
1/3 cup ice water
Sea salt

Carrots
Radishes
Red Onion
One Egg
Creme Fraiche or Sour Cream or Ricotta Cheese
(we used creme fraiche)
Salt and Pepper
Olive Oil

Instructions
In a large mixing bowl, pour in the flour and mix with salt and pepper
Take the butter out of the fridge and quickly shave it over the flour with a grater, or if you don't have one, add in very small pieces.
Pour in the 1/3 cup of ice water slowly and begin folding everything in.
Keep working this into a disc until the butter, flour, and water are evenly distributed in the dough.
Put the disc shaped dough in plastic wrap in the fridge.
Prepare vegetables bu cutting them in even size pieces and tossing them in salt, pepper, and olive oil.

Wait for the dough to have chilled in the fridge for one hour.

Warm oven to 375F.
Take out the dough and roll it out on the table.
Put down a base layer of creme fraiche in the center of the dough.
Add the vegetable medley on top of the creme fraiche and fold the edges around it.
Scramble an egg and spread some of it over the edges of the dough.
Put the pie in the oven and cook until golden brown, around an hour.