Amatriciana
The amatriciana is a contentious pasta. A delicious, generations-long argument over whose childhood was the tastiest. Food carries history in its ingredients and methods. This is best illustrated by Italian chefs arguing with each other over whose mother made the better amatriciana. Of course, this is the delicious argument that will never have a single victor, an argument based on an imaginary fixed point in the past as well as a call to action and responsibility — that we, today, make the best possible amatriciana so when our children argue about who made the best one, they have ample memories to work with as they spend long evenings fondly discussing their parents and the memories they share.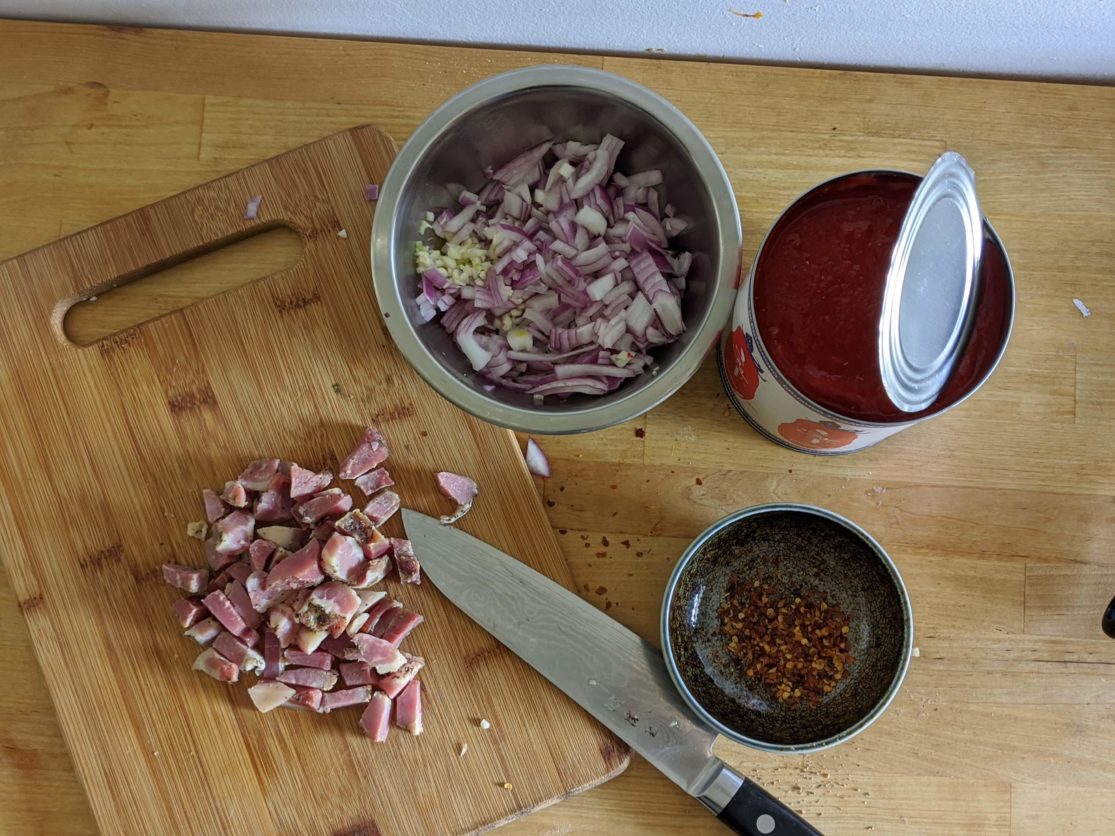 Total preparation time: 30 minutes active, 30 minutes passive
Difficulty: Easy
Pineapples: 5/5 🍍 🍍 🍍 🍍 🍍
Read before committing: It's OK to make extra sauce and leave for another day, it keeps quite well in the fridge.
(makes 4 servings)
Ingredients
300g spaghetti, bucatini, or rigatoni
1 cup freshly grated pecorino cheese
1/2 red onion, minced finely
2 garlic cloves, minced finely
1 bunch basil
75g guanciale (OK to substitute pancetta)
1 28oz can of crushed tomatoes
Black pepper and chili flakes
Good olive oil

Instructions
Mince finely the onion, garlic, and guanciale
In a saucepan, heat two tablespoons olive oil on med-high heat
Add chili flakes and black pepper, toast for 30 seconds
Add guanciale and cook for about 7 minutes until the fat is rendered out
Add red onions and garlic and cook for 7 minutes
Add the crushed tomatoes, 1/2 cup cheese, and 1/2 basil bunch, torn by hand, reduce to simmer
Let simmer for 30 minutes
Bring one pot of salted water to boil
Cook pasta in boiling water for about 8 minutes, until al dente
Reserve 1/4 cup of starchy pasta water and 1 cup amatriciana sauce
Drain pasta, combine with sauce, add 1/4 cup of starchy water
Plate in small mountains, finish with additional grated cheese, fresh basil leaves, and an additional helping of the sauce over the top


Right before we add the tomato sauce