Vegan Katsu Curry
We've been wanting to make a Japanese curry for a long time here in the fruitman kitchen and we finally ended up with a preem selection of root vegetable babies from @brooklynsupportedagriculture to really make this pop. The first Japanese curry I ever ate was made by Shige Moriya of @leimayfoundation and to this day we measure curries to that fond memory. We decided to add an extra challenge and make this 100% vegan, it was worth it. I seriously can't stress enough how big of a difference fresh produce makes for these dishes.
Japanese curry rice has now become one of the most popular meals to eat across Japan. How did curry make it to Japan? To make a long story short, it's British imperialism, of course. Many others have reported this story already, such as Vice and Taiken. I suggest you read these articles to delve deeper, though I'll share here some personal reflections. A mythological narrative posits that a shipwrecked British sailor introduced the curry to in the 19th Century. A more realistic narrative would center British imperialism. Indeed, the shipwrecked British sailor is a myth that obscures the more practical consideration that in the 19th century, Britain operated a racist, imperialist navy that plundered and conquered both geographies and cuisines, in this case, Indian cuisine. The stomach also tells a story, and curry, specifically the Vindaloo variant, was adopted by the British navy both for its versatility but also as a signifier of imperial food racism. As Bettina Makalintal reports on her findings in Vice through Dr. Merry White, a Boston University anthropology professor:
By the late 19th century, the Royal Navy had been feeding its sailors curry tailored to British tastes for years. White speculates that was because adapting English food for the high seas would have likely caused offense to British sailors, so "using a 'foreign' food made sense."
The stomach tells the story — in this specific case, it points to how the colonial mindset extends all the way to literally segregating cuisines for different purposes.
Today, we find ourselves with a style of Japanese curry that departed from both traditional Indian curries as well as the British variants that remain popular in England. Japanese curry is enabled by popular curry cubes. They are easy to find at Japanese grocery stores, we like to blend the hot versions of Vermont and Kokumaro cubes. On a flavor note, Japanese curry has notes of apple, caramelized onion, and honey. It is thick, mild (even the hot ones), and well suited to cover a katsu, a bed of rice, or a bowl of udon noodles.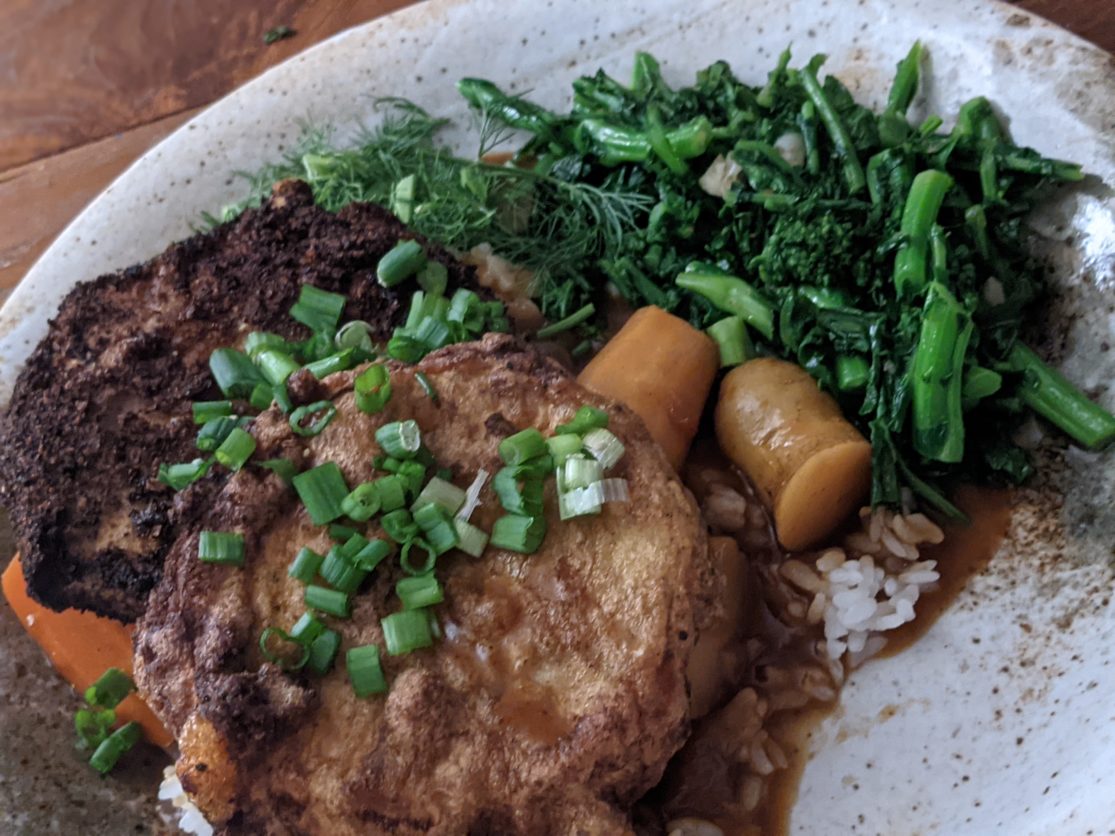 Total preparation time: 45 minutes active, 1.5 hours passive
Difficulty: Moderate
Pineapples: 5/5 🍍 🍍 🍍 🍍 🍍
Read before committing: Perfect recipe to use up your winter vegetables from the CSA!
Ingredients
Curry
(2) packs of Japanese curry roux (Vermont and Kokumaro)
(2) onions, sweet ones if you can manage
(4) carrots
(1) watermelon radish
(2) turnips
(4) scallions for garnish
(1) cup rice
Mirin and soy sauce if you have them
*you can really use whatever root vegetables you have on hand
Za'atar Katsu Turnip
(1) large turnip
(1/2) cup flour
(1/2) cup za'atar
(1) fake egg
(2) cups vegetable oil
panko breading

Sauteed Greens
Broccoli Rabe or other bright greens
Oil
Chili Flakes
Garlic
Salt and pepper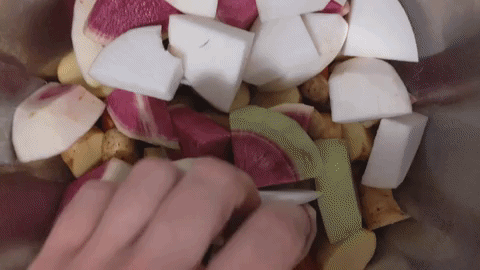 Cut onions and add in large sauce pan on low heat until nearly dissolved, around one hour or more if you have the time — this brings out the sweet onion flavor — don't burn them! While that's happening:
Prepare some rice in a pot and set aside covered
Cut all of your root vegetables, I like large chunks
Slice one turnip in round slices
Prepare three bowls with: za'atar flour, fake egg, panko breading
Blanche broccoli rabe (boil for 4 minutes and submerge in ice water)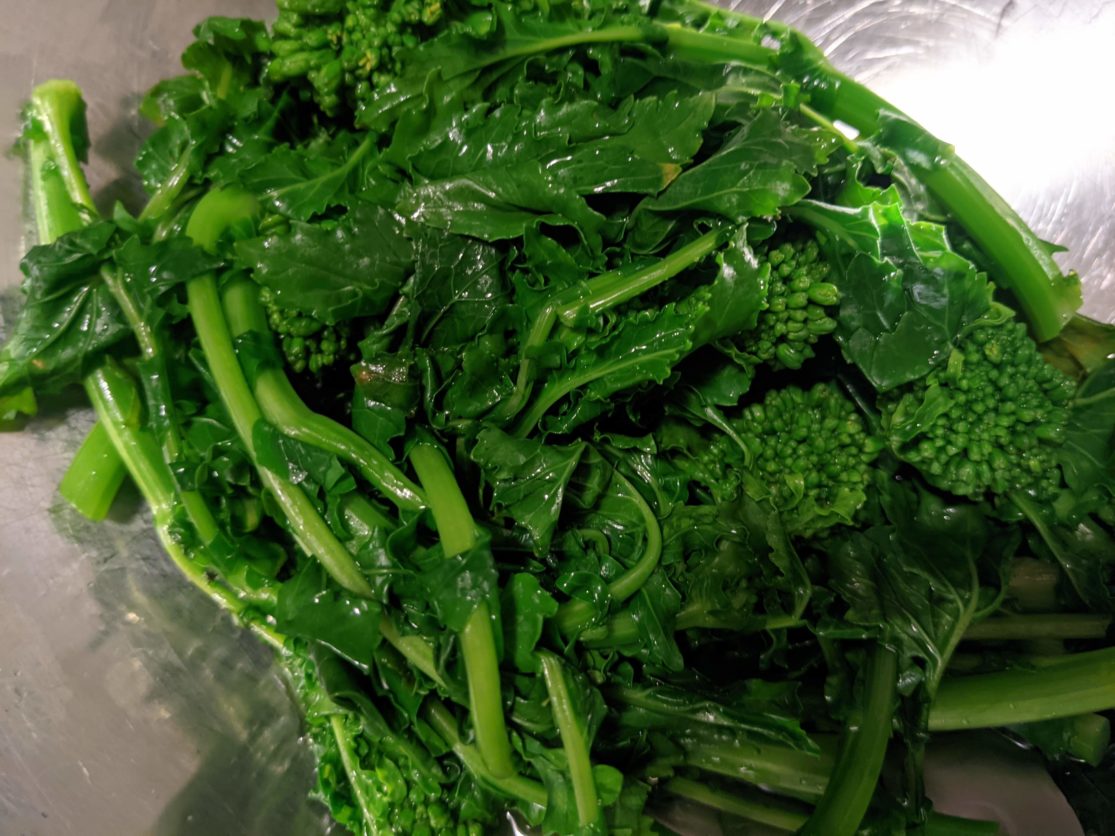 Once onions are caramelized, add the root vegetables, water, salt, pepper, and the curry cubes. Follow instructions on your curry cube box for water/cube proportions
Bring to low simmer and let simmer for about 45 minutes, until vegetables are tender
Bring the vegetable oil to a medium temperature
Dip the turnip rounds in the following order: za'atar flour, fake egg, panko
Fry until golden brown, about 10 minutes at medium heat
Mince broccoli rabe and toss in a pan with garlic, chili flakes, olive oil, salt, pepper
On a plate, set a bed of rice, ladle curried vegetables over the top, place the katsu turnip rounds on top of that, place broccoli rabe on the side, ladle more curry over everything, garnish with scallions